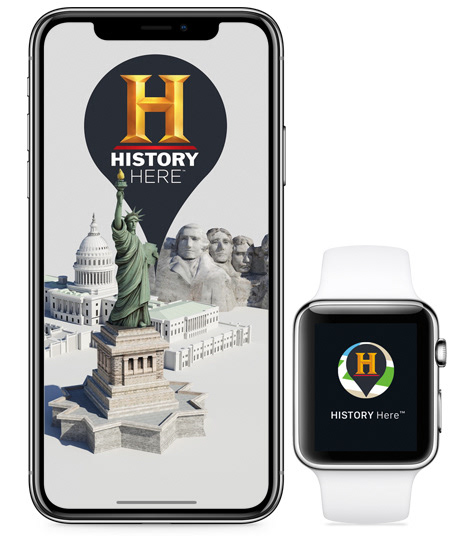 The easy-to-use interface, photos, and dynamic maps bring history to life anywhere in the country. Whether on vacation or just running errands, the app makes it simple and fun to get the facts on the history hidden all around you.

​​​​​​​
A+E Networks® joined the highly anticipated Apple Watch launch with the inclusion of the critically acclaimed HISTORY HERE® App on April 24th, 2015. The experience truly reaches another level with the Apple Watch. People carrying on normal, daily activities will now be seamlessly notified of the history around them. The app and geo-targeted content is a perfect fit for the new technology.
Special features include:
The Tours feature – it provides topics and points of interest with historical location themes that pertain to specific areas, people, food, etc. For example – a Marilyn Monroe Los Angeles tour begins at the hospital she was born in and ends at the grave she is buried in. Additional Tours include Al Capone's Chicago, Civil War Atlanta, Central Park, New York.
An additional feature is: Surprise me – which pulls out a random point of interest and drops you into it –  which is a great way to learn fun and interesting facts about locations around the country no matter where you are.
Designed and developed in-house by A+E Networks Digital Media team.
* Webby Award Winner: Mobile Sites and Apps
* GDUSA: American Web design Award
* GDUSA: American In-House Design Award
* Recognized as one of the "Best New Apps" in Apple's App Store
* Yahoo! Tech named the app among "23 Apple Watch Apps you should download now"